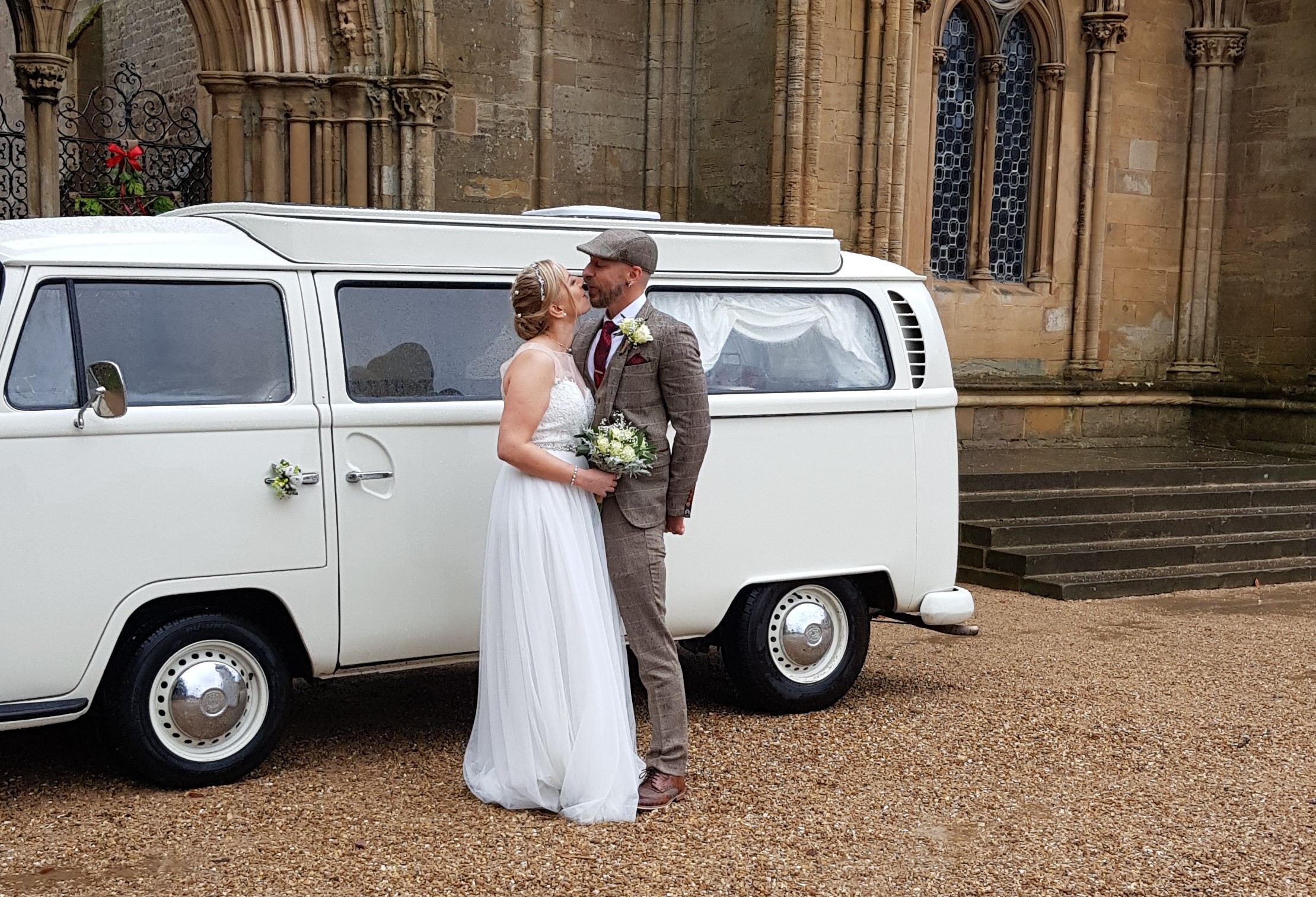 VW Campervan Clowne Creswell Whitwell Worksop Chesterfield Mansfield
Wedding Hire
No. 1 for VW Campervan Wedding Hire
Classic and Camper are No. 1 for VW Campervan Wedding Hire in NORTH EAST DERBYSHIRE, SOUTH YORKSHIRE, AND NORTH NOTTINGHAMSHIRE.  You will be so comfortable in our unique eight-seater VW Camper; we will make your special day spectacular!  Macy has undergone a meticulous renovation to the highest standard, and she looks stunning finished in Lotus White.  The specially designed and skillfully crafted interior complements the exterior colour scheme perfectly.
New Lease of Life
Interested in how we gave this great little campervan a new lease of life?  Click this link Macy's Story to take a look at how it happened.  You will see that we transformed this classic camper to how it looks today.  Above all, safety and reliability were at the forefront during the restoration.
We fitted a dual circuit remote brake servo unit, along with a completely new brake system.  This upgrade was, without any doubt, the essential safety modification of all.
 VW Campervan Wedding Hire for the perfect camper.
All types of Wedding Ceremonies
We offer luxury VW Campervan Wedding hire for all kinds of special occasions, including corporate and film work. We cater for all types of weddings and civil ceremonies for all religions, at the venue of your choice.
One of the Family
Furthermore, our VW camper is not just another car, but in truth, a cherished member of our family.  Moreover, our driver will treat you and your guests with the same respect he gives the camper.
We individually quote weddings and special events at our most competitive rates.  You can secure your booking with a small holding deposit, but first of all, contact us.  After we have confirmed we are available, click HERE to download a Wedding Day booking form.  Once you have completed the form send it to us at steve@classicandcamper.co.uk.
Sheffield, Mansfield, Nottingham
Polished to Perfection
Here at Classic and Camper, we pride ourselves on how we present our camper, and on the morning of your big day, we will, of course, hand polish and decorate your car with the ribbons of your choice. These ribbons are complimentary; however, we offer exclusive and personalised ribbons at small extra cost.  We also use silk flowers, which can be used alone or to compliment your ribbons.  Whatever you want it is your choice.
Your VW Campervan will look almost as stunning as you, and your special day will be perfect.
VW Campervan Wedding Hire available in four counties
Classic and Camper are based in North East Derbyshire, and subsequently within easy reach of Nottinghamshire, South Yorkshire, and Lincolnshire.  Our standard prices will include weddings in; Chesterfield, Staveley, Worksop, Shirebrook, Mansfield, South Sheffield, and all the villages in between. However, if your wedding is outside those areas, please contact us for an accurate quote.
wedding car hire in Clowne, Cresswell, Barlborough, Whitwell, Worksop, Mansfield, Chesterfield, Sheffield Nottingham
Understandably our VW Camper is our pride and joy, and we, of course, keep it immaculate.  With everything perfect, we will ensure you have the most unique and memorable journey to and from the ceremony.  On your special day, your wedding car will include our standard floral display, ribbons, and uniformed chauffeur.
Enquiring, in truth, could not be easier.  Just email us using the form on the contact page or, if you prefer, phone us for an informal chat.  We are here to help you choose everything you need for your VW Campervan Wedding on your special day.  Furthermore, whatever you decide on, Classic and Camper will ensure your day runs smoothly.
Clowne, Creswell, Barlborough, Whitwell, Worksop, Chesterfield,
Do something a bit different!
Maybe you are thinking of planning a themed wedding or fancy something a little bit different, then why not?  If you do, let us know!  For example,  you might want your chauffeur dressed in surf gear, or only just jeans and a T-shirt?  Maybe you specifically want us to dress to suit your theme?  Of course, we will always do the best we can to get involved.  If you are reading this, then you love the VW campervan scene?  Ask us to set up the full beach surf scene with deck chairs, picnic table, surfboards, wetsuits, and sandcastles!……………………….   Well, perhaps not the sandcastles.
Unique and Wonderful Photos
Getting everyone together can prove difficult, therefore, an ideal location for the photos is your reception venue.  What we can do is, will, of course, be subject to permission and weather conditions.  You and your guests will then be able to pose for some truly unique and wonderful photos to cherish.  Just let us know what you would like at the time of booking.  VW Campervan Wedding Hire for the perfect camper
VW Campervan Wedding Hire for the perfect camper.
Your imagination is your only constraint!  We have lots the props, however, you are more than welcome to supply your own.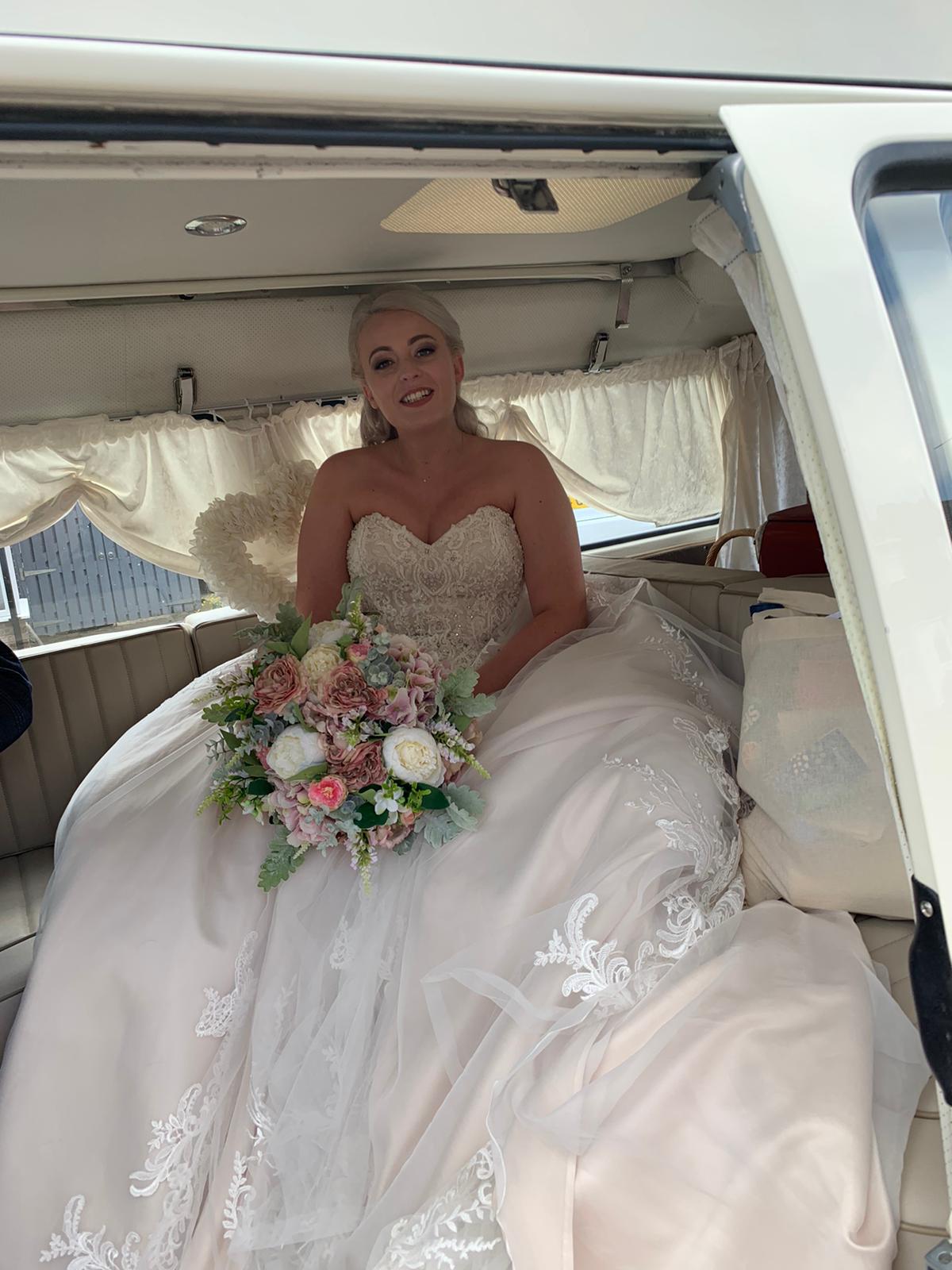 Make your special day,…………………… Spectacular!
AH Schofield Unit 14 Dinting Lane Industrial Estate, Glossop, Derbyshire SK13 7NU